The Hyper Pony Studio process
The Hyper Pony Studio process
Every website goes through the same process.
I've been using this process for years to:
Discovery Call & Sales Pitch
This is a 60-90 minute call where you'll give me the same sales pitch that you give your prospects on your sales calls. You'll tell me about your services, ask me questions, and explain how you can help me – just as if I was a potential client.
Why? Because most often, it's those sales calls where you shine. And there is almost always a gap between the way you are selling yourself in person and the way you are selling yourself on your website. I want to fix that.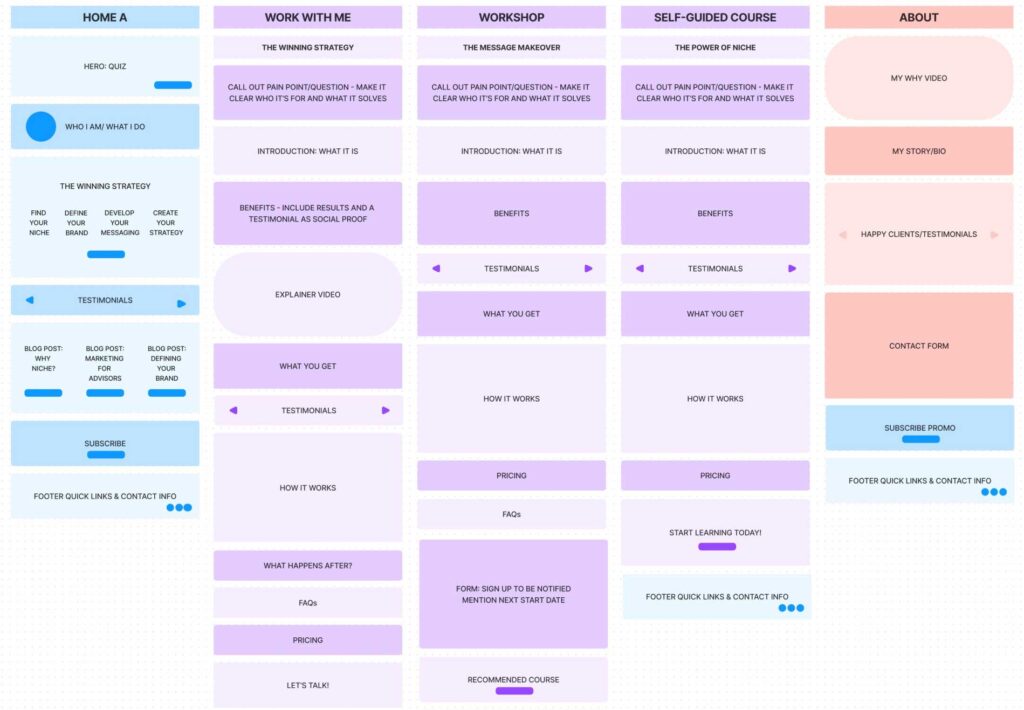 Based on our conversation, I'll put together a basic structure for your website. This is a guide to show what your pages will be, and what kind of content will live on each page.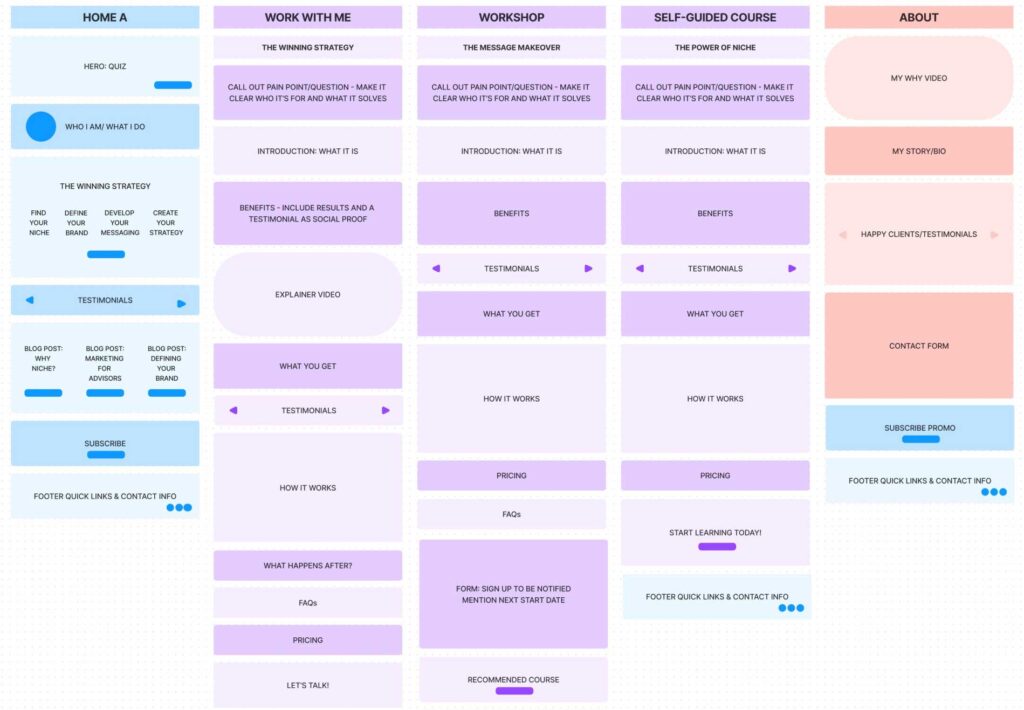 Think of wireframes as blueprints. They show you where everything goes – but they don't include any images, color, or design elements.
This is probably the most important part of the entire project. It's where we decide what your messaging will be, how your content will be organized on each page, and which content is most important. We're also thinking about how your visitors will move through your website. Every decision is made with your goals in mind!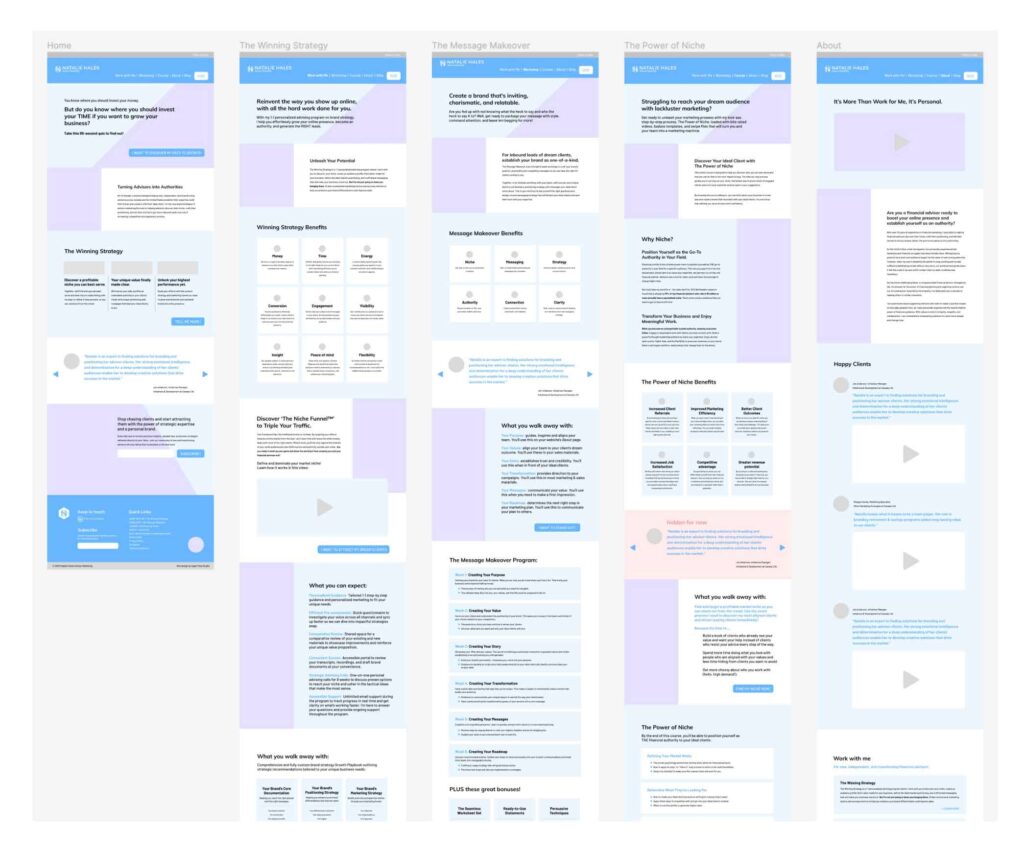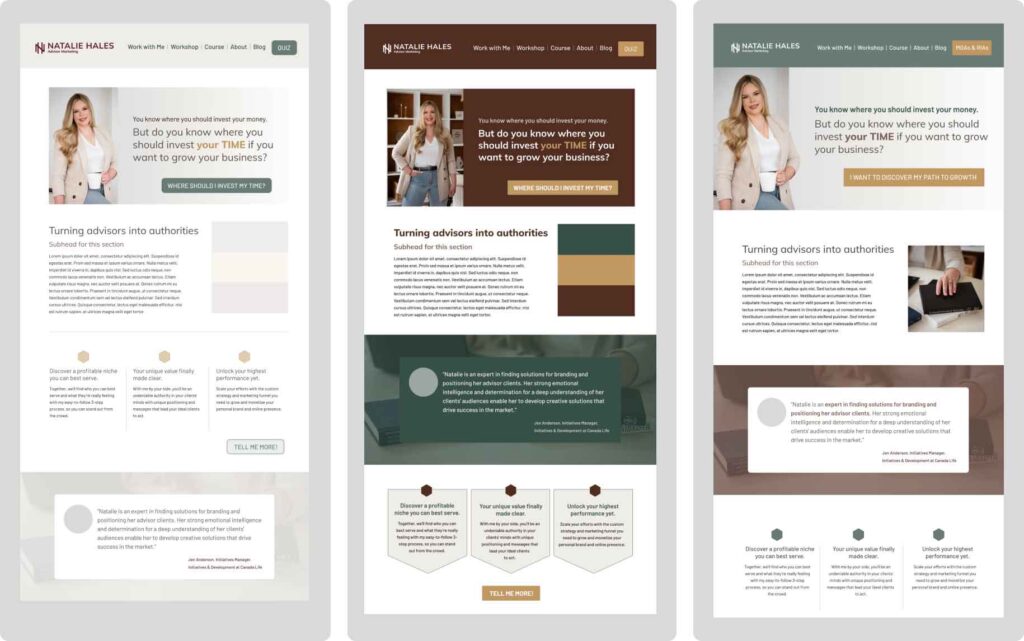 Moodboards help us to get on the same page when it comes to the overall look and feel for your site. This step is especially important if you don't already have a well-defined visual brand.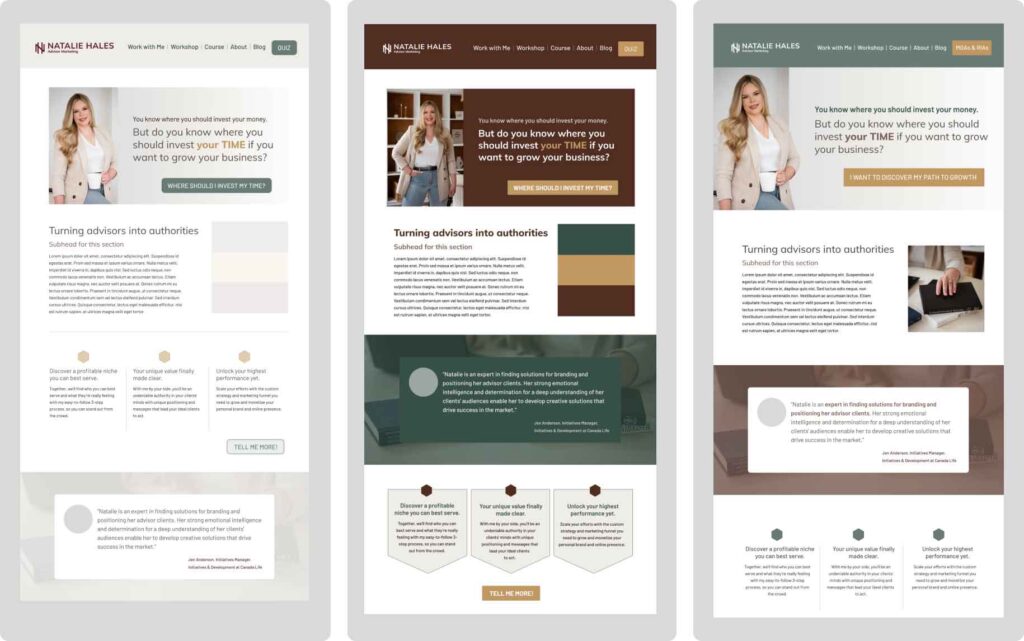 We've finally arrived at the fun part! This is where we'll decide exactly what your site will look like. In this step I marry your wireframes and your final moodboard to design your website.
You may be surprised to find out there aren't any revisions during this phase. That's because every design decision is made for a reason. It's not about your taste; it's about making sure your site is helping you achieve your goals.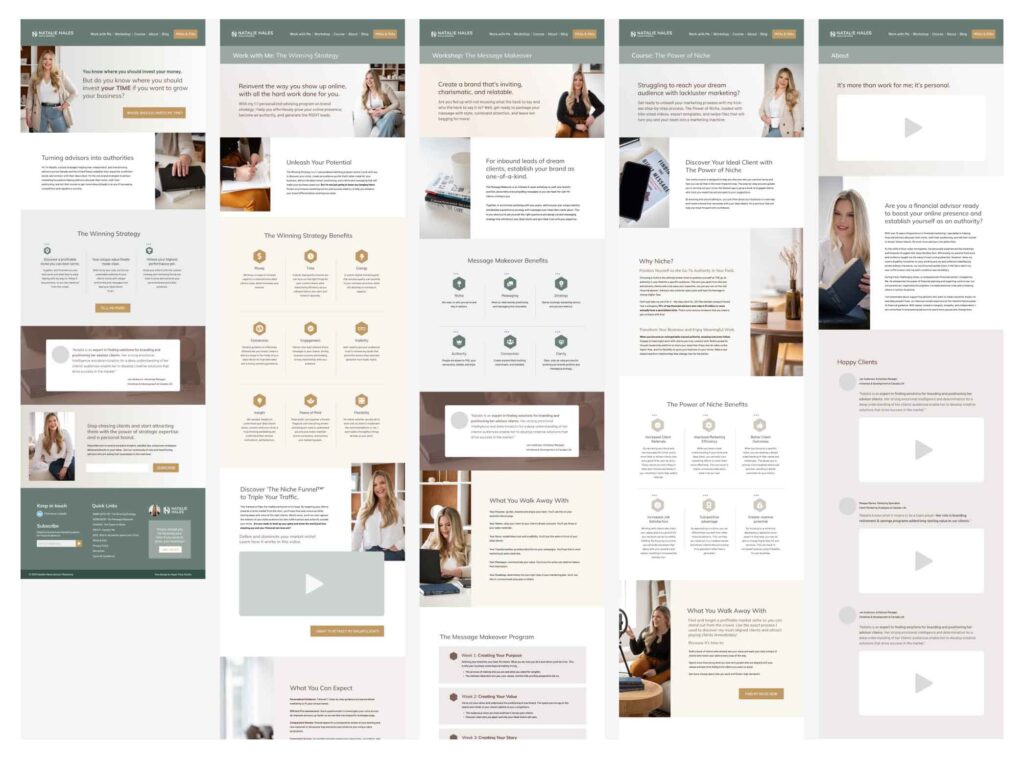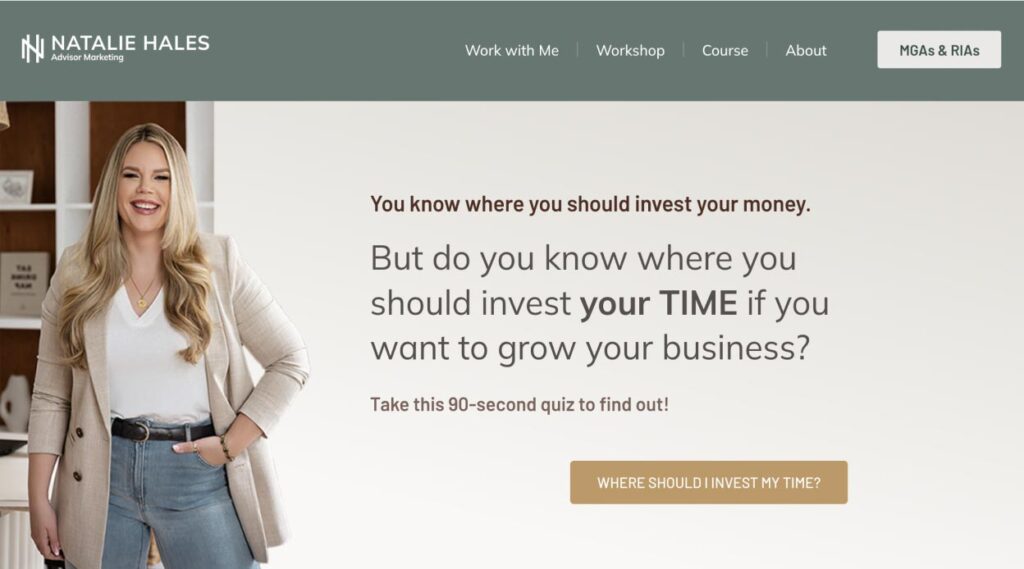 Finally, I'll build your mobile-friendly site and test it across devices. I'll also set you up with Google Analytics, test your forms with you, and index your website with the search engines. After the launch, I'll give you a tour so you know how to update your site on your own.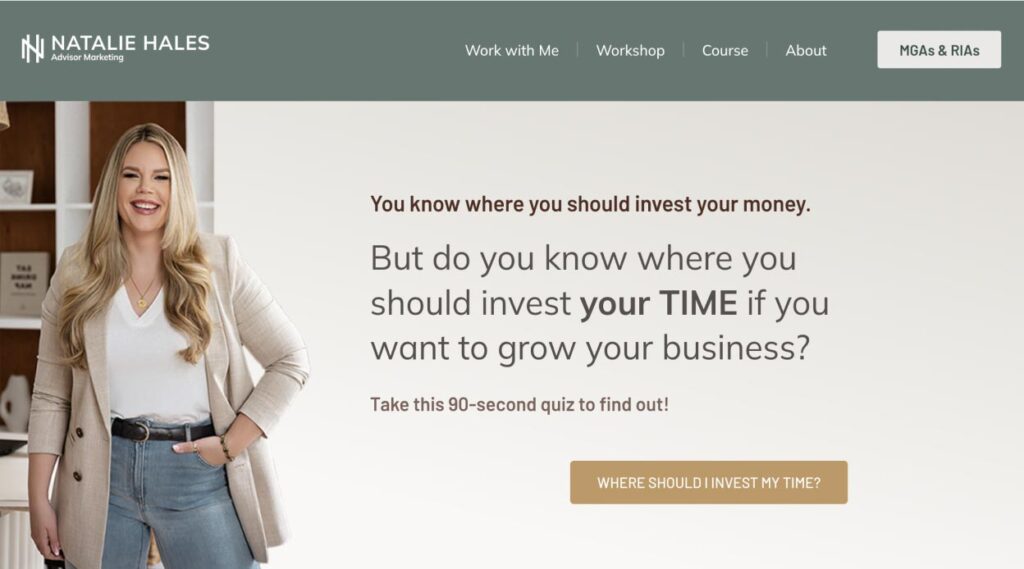 Recent Hyper Pony Studio
Web Design Projects
You never know exactly what to expect when you hire a service provider, but I'd recommend Manda to anyone and everyone I know. Investing in Manda and her process was invaluable, and I'll be investing in more projects with her in the future.
Manda didn't just build a website; she crafted an immersive experience that draws visitors in and keeps them hooked. What truly sets Manda apart is her deep understanding of marketing. She didn't just ask me what I wanted; she delved into my brand, my audience, and my goals, and used her expertise to elevate my site to a level I didn't think was possible.
Advisors, if you are looking for a new website or a revamp of an old website, Manda Szewczyk is your person to work with! She makes the process so easy and is an amazing marketer on top of a premier website designer. If you are considering a new site, just do it! Its less effort than you think with the right partner.
We have worked with Manda for the past six months to completely refresh our brand, a brand that has been in existence since the 1970s. She educated and guided us every step of the way as we refreshed every part of our brand, including our website, pitch books, stationery, client reports, business cards, etc, etc. Thanks to Manda, our clients, consultant partners, and employees love our new look.
Manda quickly developed strategic insights and a keen understanding of our business to create a website that aligns seamlessly with our goals and messaging and provides an exceptional user experience. The website she crafted embodies our organization's values and vision. We couldn't be more pleased with the result.
Manda is an exceptional web and graphic designer and her ideas are fresh, creative, bold and imaginative. She thoughtfully tackles each and every project with enthusiasm, and her approach is always very forward thinking; her management style collaborative and proactive. Working with Manda, I always feel like I am working with a fellow colleague—not a "vendor." With an eye towards problem solving and addressing our specific needs, I am always grateful to have Manda on our team.
Are you ready for a custom website driven by marketing expertise?
Schedule a 20 min consultation to tell me more about your project and get your free estimate!