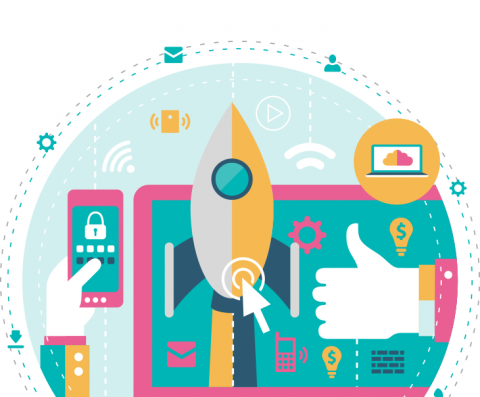 How big is Hyper Pony Studio?
We're a small studio. Tiny even. Most work is done by owner and designer Manda Szewczyk, but we also have some very talented programmers we call on for bigger or more complicated jobs. We can handle most anything, but rest-assured, if your job is beyond our skillset or manpower, we will let you know upfront and will recommend a bigger shop.
Where are you located? Can I visit your office?
We are in the Chicagoland area, but work remotely. We do not take client visitors, and prefer to communicate via email or phone. If an in-person meeting is important to you, we can meet at a local coffee or sandwich shop to discuss your project (we prefer sandwiches!).
Can I call and talk to someone? I don't see a phone number anywhere.
Because we are a small shop, ringing phones are an unwanted distraction, and limit the amount of work we can complete in a day. Email, in contrast, can be answered when convenient, and leaves a record of the conversation so there is no confusion during the project. We do occasional phone meetings with long-time clients, but email is our preferred method of communication.

WORKING WITH HYPER PONY STUDIO
What are the advantages of working with Hyper Pony Studio?
Hyper Pony Studio is a small shop with a number of ongoing clients. We only work on a few projects at one time, so we can give every job focused attention. We only take on new clients when we have an opening, so you never have to be worried your project will be lost in the shuffle. Finally, at Hyper Pony Studio, you'll always know who you are working with because all projects are managed by owner and designer Manda Szewczyk. For us, it's not about quantity, it's about quality.
Who will I be working with at Hyper Pony Studio?
For the entirety of your project, you will be dealing with Manda – the Hyper Pony Studio owner and web designer. We've found that it's most convenient for our clients to have one point person instead of trying to sort out which person to contact for which concern.
What kind of work do you do?
WEB DESIGN
We specialize in web design. We are passionate about creating websites that are user-friendly, easy to navigate, and responsive. Of course we want our websites to be beautiful, but usability always comes first!
EMAIL COMMUNICATIONS
We create e-newsletters and html emails, either to be used as ongoing templates, or to be used for special event emails.
LOGO DESIGN
Do you have a new business, or a brand ready for a refresh? We can help you create your logo, letterhead, and business cards.
PRESENTATION DESIGN
We can help bring your PowerPoint presentations to the next level, or create branded templates for future use by your team.
PRINT DESIGN
We can design anything that can be printed: brochures, posters, annual reports, menus, t-shirts, etc.
For all of these projects, we work with you from concept through production and delivery of the final product.
If you are curious about whether Hyper Pony Studio can handle your project, feel free to contact us and ask!
What kind of work do you NOT do?
We do a lot at Hyper Pony Studio, but here are some of the types of jobs we can not help you with:
WRITING
You will have to provide all of the language for your projects. Hyper Pony Studio does not write content.
CUSTOM PHOTOGRAPHY
We can help you to purchase stock photography, but if you want a custom shoot set up, you'll have to work with a professional photographer, and we don't have one on staff.
3D ANIMATION
We do not have the software for animation
THREE DIMENSIONAL DESIGN
If you need package design, tradeshow booth design, or any other type of three-dimensional design, Hyper Pony Studio is probably not your best bet. We have done this type of work in the past, but we feel you would be better off in the hands of one of the many shops that specialize in these types of design.
SMALL EDITS TO EXISTING DESIGNS
We're happy to completely redesign or refresh an existing website or marketing piece, but we can't do small tweaks or revisions to your site or materials. It's best to call the original designer for those types of updates.
If you are curious about whether Hyper Pony Studio can handle your project, feel free to contact us and ask!
What is the process for starting a project with Hyper Pony Studio?
If you have a project that you think would be a good match for Hyper Pony Studio, the first step is to fill out this form. After we receive your information, we will send a follow-up email with additional questions about your project so that we can provide a time and cost estimate.
How do estimates work?
Estimating a project is never easy. We have to rely on the information you give us to make our best guess to how many hours your project will take to complete. The more detail you can give us, the closer that estimate will be. If your project has a lot of uncertainties, then we will give you an estimate range. The project work will be clearly outlined in the contract, and if a project is creeping outside the original scope, we will alert you right away so you can decide if you would like to proceed at an additional cost, or pull back to the original project plan. It's not a perfect science, but we try to make it as painless as possible.
What is the payment schedule for Hyper Pony Studio?
Hyper Pony Studio requires a third of the estimated project cost upfront, a third after the discovery/mock-up phase is complete, and the remaining payment upon project completion.

How much does a website cost?
The price of web design varies greatly depending on what you need — how many pages your site has, what types of functionality it requires, and the overall complexity of the site. As a starting point, you should expect to pay at least $3,000 – $5,000 for a basic website. If this is outside of your budget, you may want to look into using a template option until you can afford a custom site (and yes, we can help you get set up with a template if you have a smaller budget).
Does Hyper Pony Studio offer hosting?
Hyper Pony Studio can offer you a hosting plan. We are also happy to work with your existing host if you have one.

STILL HAVE QUESTIONS? CONTACT US!